Rent a sailboat with a skipper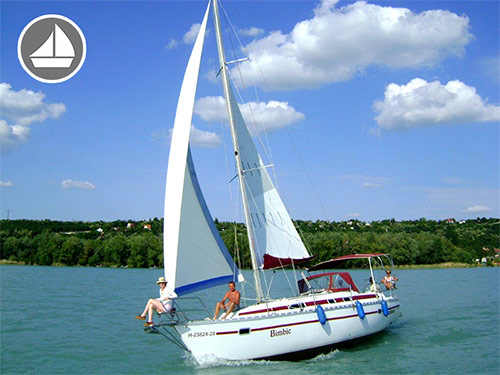 private
on a sailing boat
2 hours
capacity: 11 pers.
price includes:
skipper service
price exclude: drinks, food
boarding: Siófok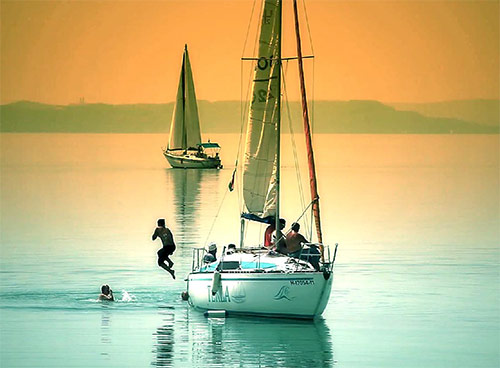 Sailing is one of the most incredible experiences for everyone who has tried it. Book a date for our service of renting a sailing boat with a skipper, the activities are sailing, bathing, sunbathing!
A boat can accommodate 11 passengers, which makes it ideal for family cruises or small, close-knit teams.
Any activities:
romantic date
birthday
photosession
vacation with family and friends
corporate meeting
Those who are interested in sailing the boat, have a chance to try themselves, after just a short introduction from the captain you can take over the ships wheel!
For those whose interests are more along the lines of relaxing, laying on the sun or bathing in the middle of the lake or even a small party are perfect and possible options
Good to know:
– The appointment is flexible and rearrangeable, as long as you notify us 5 days prior.
– Our two hours long trip is not long enough to reach the other side, it's mostly advised as a tryout for sailing, or shorter special occasions – such as proposals, etc.
– It's recommended to pack some warmer clothes
– Usually wearing your shoes is not necessary – however our crew is greatly thankful if on such occasions your shoes are not making any scuff marks!
– The activities are completely flexible. You get to decide: bathing, relaxing, sunbathing, visiting other coastal cities, etc. ( Some restrictions might apply depending on the weather)
– We provide life jackets in every size, but please notify us about number of the children to ensure we have the right size for everyone. Babies might stay in the ship's cabin, but we do not recommend sailing at such a young age.
– Pets are not recommended to take along.
– On smaller appointed journeys, it is important to start – and be back on schedule. Please make sure to arrive on time!
– Please provide us the booking number upon boarding. (It is sufficient in digital form as well! )
– The prices do not include drinks and food